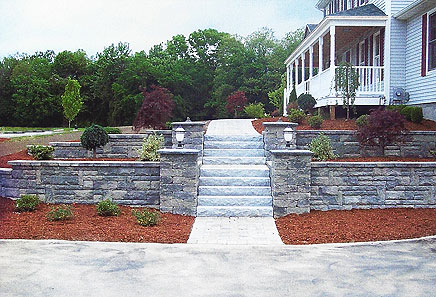 • Steps & Retaining Walls
Pavers, Stones & Steps
Paved stone creations are a great way to add comfort and atmosphere to your landscape while creating curb appeal and adding value to your home. Installation is much easier compared to laying traditional concrete, and replacement is even easier, ensuring that your hardscape investment is protected with minimal maintenance.
Paving stones are colored with a variety of imported oxides, which reduce fading and keep the surface looking brand new for many years to come. Concrete Pavers are four times as strong as poured concrete and can withstand the effects of harsh weather conditions without cracking.
Your design possibilities are endless, with many choices in color, sizes, shapes, patterns and designs.
To view our Pavers, Stones & Steps portfolio, click here.