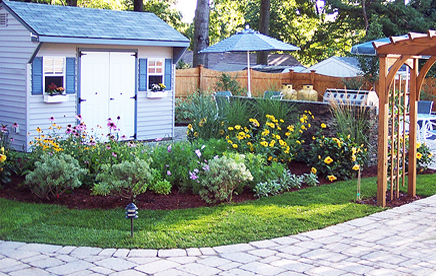 • Fast Growing Trees & Shrubs
• Drainage & Erosion Control
Landscaping & Lawn
ET Landscaping Construction garden and lawn professionals will provide you with a landscape design based on your unique property needs and interests. We use only high-quality nursery stock, along with essential elements for soil preparation. Once the installation is complete, we finish off your garden beds with a bio-degradable mulch to covering to retain moisture and provide a clean finished look.
Hydroseeding
Hydroseeding is a planting process using a slurry of water, mulch, seed and fertilizer. The slurry is sprayed onto topsoil and transforms into a uniform lawn in a few weeks (depending on the season and climate). This process is successful because seed is nutrient rich and when combined with water, starts the germination cycle. The mulch seals in the moisture, and holds the soil in place. The application of hydroseeding is applied at an ideal depth that is evenly distributed to ensure a beautiful lush lawn.
Drainage & Erosion
Drainage and erosion can be destructive to your property. Uncontrolled water run-off slowly penetrates foundations and erodes soil and landscaping. Depending on your property needs, we'll engineer and install necessary landscape grading, drainage lines, or catch basins to effectively manage run-off water.
To view our Landscaping & Lawn portfolio, click here.