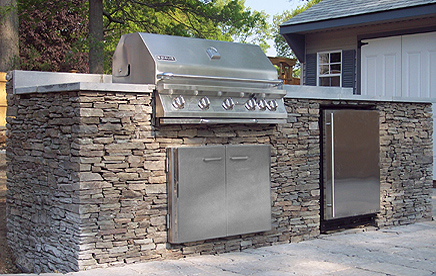 Kitchen, Dining & Bar Areas
The days of simply grilling on the patio have evolved into an outdoor cooking and dining experience! Our custom built outdoor kitchens, grilling and dining areas give "dining alfresco" a whole new meaning. These outdoor areas can range from built-in barbeque grill areas to a fully equipped kitchen complete with one or more grills, counter tops, sinks, bars and storage cabinets. Dining areas can be an extension of your outdoor cooking area or a separate area all it's own.
We'll design an outdoor cooking, grilling, dining or bar area to fit your individual needs along with installation of appliances you wish to include. All appliances are stainless steel for durability in combating the elements and provide easy clean up.
To view our Kitchen, Dining & Bar Area portfolio, click here.