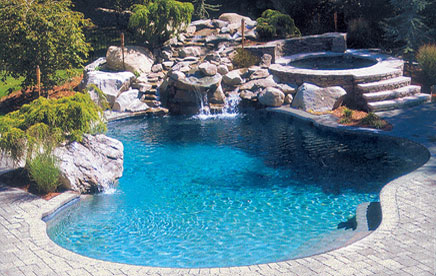 Pools, Spas & Waterscapes
Pools
Adding a pool to your backyard or outdoor living area will not only provide an elegant look, but will also add hours of enjoyment with family and friends. All while adding value to your home. We'll work closely with you from design through construction and finishing details to produce a beautifully finished custom pool.
Custom Designed Gunite or Fiberglass Pools
Gunite is the pneumatic application of concrete over a steel reinforced cage. Gunite is ten times stronger than poured concrete and lasts an average of 15 years or more before re-plastering is needed. Gunite pool construction has no limitations. Whether you're looking to create a formal, simple or exotic pool design, there are no limitations on design, shape or size. In addition, custom water features can be added to make your pool a water experience.
Fiberglass pools are an affordable in-ground pool option. They are less labor intensive to install and need far fewer chemicals providing easier maintenance. Fiberglass pools are also environmentally friendly and energy efficient. The non-porous surface offers a smooth comfortable interior.
Water feature accents offer additional personalization and customization with slides, waterfalls, fountains, lighting and even fire elements. (view portfolio)
Compliment your in-ground pool with a guesthouse, cabana, outdoor kitchen or fire pit. (view portfolio)
Spas
A custom in ground spa can bring health, relaxation, family time and romance to your backyard throughout the year. Spas can be built in conjunction with a swimming pool, or completely standalone. Design options are as varied and limitless as with custom swimming pools.
Water Features
Enjoy a unique and soothing place to experience the sights and sounds of nature. Water feature designs can be simple and elegant, or they can be as complex as a work of art. Enhance your landscape with a custom water feature designed specifically for your yard.
To view our Pools, Spas, & Waterscapes portfolio, click here.